Robbie McCauley 'n Company
A Celebration + Symposium
The Greene Theater, Emerson College
Tufte Performance and Production Center
10 Boylston Place
Boston, MA
April 6–7, 2017
FREE & OPEN TO THE PUBLIC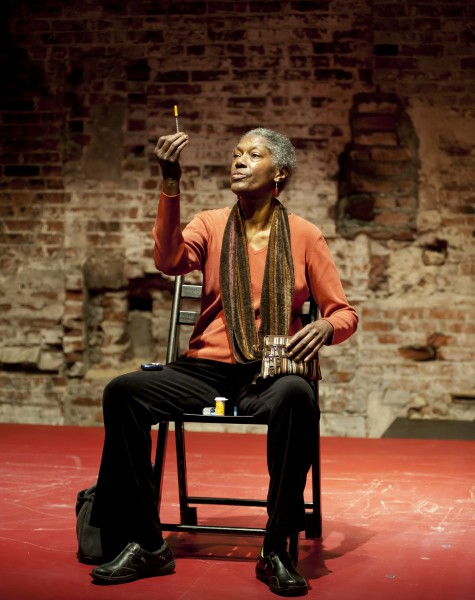 On behalf of Emerson College's Performing Arts Department and Office of the Arts, Sleeping Weazel presents Robbie McCauley 'n Company: a convening in performance.
This two-day free and open to the public event honors Robbie McCauley for decades of making fearless, groundbreaking theatre and performance. Emerson College's Greene Theater will be transformed by guest performances, story circles, and conversation on community activism with a veritable who's who of performance artists and distinguished scholars and critics.
SCHEDULE
THURSDAY, APRIL 6TH
10:30 am
Convening introduction from Melia Bensussen (Chair, Performing Arts, Emerson College), Marshall Hughes (Director of Fine, Performing, and Media Arts, Roxbury Community College), and Charlotte Meehan (Artistic Director, Sleeping Weazel), followed by Robbie McCauley explaining the story circle model and how we will move through the two days primarily in this mode.
10:45 am
The Work (what and why we do what we do)
A story circle led by Robbie McCauley
12:00 – 1:00 pm
The Question of Beauty: Daniel Alexander Jones and Carl Hancock Rux introduce creative/performance panel to be joined by Kym Moore, Nicky Paraiso, and Pamela Sneed
1:00 ­- 1:15 pm
Magdalena Gómez reads from her work
2:20 – 2:30 pm
Djola Branner performs
2:30 – 3:15 pm
Writer/Cultural Critic Cynthia Carr in conversation with Robbie McCauley and Jessica Hagedorn (on Thought Music)
3:30 pm – 4:30 pm
Innovators and Transformers: introduced by Jessica Hagedorn to be joined by Karen Finley, Robbie McCauley, Dael Orlandersmith, and Joanie Fritz Zosike
4:35 – 5:00 pm
David Dower (Co-Artistic Director, ArtsEmerson) introduces the conversation about Sugar.
Robbie McCauley, Emerson professors Maureen Shea and Mirta Tocci, and Tara Brooke Watkins
5:15 – 5:30 pm
Nicky Paraiso performs "Immigrants"
8:30 pm
Performances by Karen Finley, Robbie McCauley & Jessica Hagedorn, Jomama Jones, Dael Orlandersmith, Carl Hancock Rux, Pamela Sneed, and Joanie Fritz Zosike
FRIDAY, APRIL 7TH
10:30 am
Scholar/Critic Alisa Solomon and Robbie McCauley in conversation
11:30 am
Robbie's works in context: moderated by Charlotte Meehan
Becky Becker, Melia Bensussen, Robert Colby, Elin Diamond, Jennifer Griffiths, David Kyuman Kim, Kym Moore, and Tara Brooke Watkins
12:35 – 12:45 pm
Obehi Janice performs
1:45 pm
Roxbury Repertory Theater: Color Conscious Casting
Investigating the Classics & Questioning Our Assumptions
Robbie McCauley will introduce this set of ideas to be joined by Kay Bourne, Marshall Hughes, and Mirta Tocci
3:00 pm
Community in Action
Donna Bivens will introduce this section to be joined by Gail Burton, Paula Elliott, Robbie McCauley, and Juanita Rodrigues