Timbuktu, USA
a hungry and ridiculous play about political naïveté
written and directed by Kenneth Prestininzi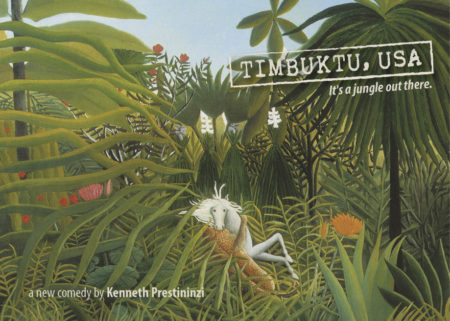 In this topsy-turvy new comedy, a powerful woman denied, a proud virgin deceived, and a devious monkey uncaged are key players entrapped in a poisonous stew of political exploitation and pissed-off innocence. Part farce, part horror story, Prestininzi's madcap play unfolds in naughty hijinks and stunning reversals.

Returning to Boston after his critically-acclaimed plays, Birth Breath Bride Elizabeth (ArtsEmerson's The Next Thing Festival) and Ugmo and Eenie Go Down The Ruski Hole (Sleeping Weazel's Doubles, Demons, and Dreamers festival), Prestininzi will leave audiences in fits of shock and laughter.

August 25–26 and August 31–September 1, 2018 (7:30 pm)
September 2, 2018 (3:00 pm)

Boston Playwrights' Theatre
949 Commonwealth Avenue, Boston

Performed by Luis Astudillo, Brittany Baltay, Mattie Barber-Bockelman, Michael Hammond, Riley Hillyer, Ramzi Kaiss, Jason Karos, and Veronica Anastasio Wiseman.